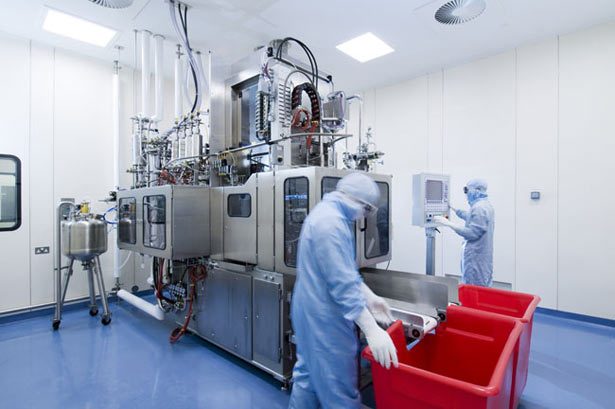 Ingersoll Rand Air Solutions knows the importance of air purity in pharmaceuticals manufacturing equipment, which is why they were the first manufacturer in the world to be certified Class 0 for centrifugal air compressors and rotary screw compressors. The most stringent of all ISO 8573.1 air quality classifications, Class 0 certification was added in 2001 by Ingersoll Rand in response to critical applications where air purity is essential, such as the pharmaceutical, food and beverage, electronics and textiles industries. The certification recognizes compressors that discharge air free of added oil aerosols, vapors and liquids.
Ingersoll Rand's Class 0 100% oil-free technologies reduce product safety issues and eliminate the risk of product contamination.
What is Class 0 certified technology used for in the application of pharmaceutical manufacturing equipment?
Tablet Production and Coating

Compressed air is frequently used to de-dust tablets and spray on tablet coatings.

Mixing and Holding

Compressed air is used to maintain over-pressurization on mixing and holding tanks to ensure product integrity/sterility.

Product Filling, Packaging and Bottling

Compressed air often has direct contact with the product and/or package during filling/dosing, blister packaging and bottling.

Aseptic Applications
Class 0 100% oil-free air does the following:
Ensures higher product purity and eliminates the risk of rejections and/or health risks associated with oil contamination.
Prevents the risk of oil contamination damaging this delicate balance.
Prevents oil contamination from being transferred directly to the product.
Ensures consistently sterile air.
Section 820.70 (e) of Title 21 of the Code of Federal Regulations set by the FDA states that "each manufacturer shall establish and maintain procedures to prevent contamination of equipment or product by substances that could reasonably be expected to have an adverse effect on product quality." Ingersoll Rand Class 0 oil-free compressed air technologies help pharmaceutical manufacturers adhere to this regulation by ensuring production processes remain 100% free of compressor-created contaminants.
Ingersoll Rand also offers compressed air system audits that align with GMP requirements and PAT initiatives.
We are available 24-hrs a day, 365 days a year so never hesitate to contact us for any air compressor, air tool or material handling need.