Today, power generation comes in many forms, including: fossil fuels, nuclear, renewable and gas turbine.

There are four main categories of Power Generation and their uses that that Ingersoll Rand focuses on:
Fossil Fuel

Overhaul turbines, repair boilers or pulverizers, induced draft or booster fan motors, maintain scrubbers or environmental equipment, or if you are in the process of site construction, and more

Nuclear

Site Construction, Reactor Re-Coring, Repairing Pressure Vessels, Steam Generators, Turbines, and Heat Exchangers, etc.

Renewable

Hydroelectric, Wind, Solar, Geothermal, and Biomass

Gas Turbine

Construction, Maintenance, and Repair of Gas-powered Turbine Generators
Learn more about Power Generation using Ingersoll Rand's interactive Productivity Park web application. (Note: This is a Flash-based application and is best viewed on a computer or mobile device, which has Flash viewing options.)
Productivity Park, Ingersoll Rand's virtual power plant allows you to point and click your way through coal, wind and natural gas facilities.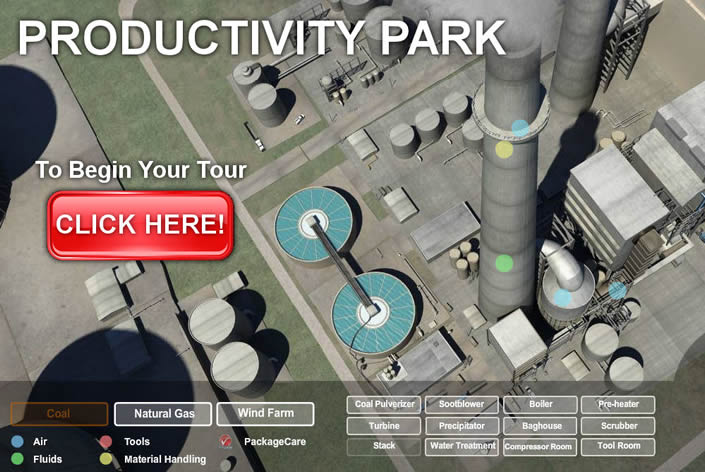 Ingersoll Rand provides the world-class Class 0 100% oil-free products, services, and support needed to operate efficiently and profitably in the power generation sector.
Class 0 100% oil-free air does the following:
Ensures higher product purity and eliminates the risk of rejections and/or health risks associated with oil contamination.
Prevents the risk of oil contamination damaging this delicate balance.
Prevents oil contamination from being transferred directly to the product.
Ensures consistently sterile air.
Section 820.70 (e) of Title 21 of the Code of Federal Regulations set by the FDA states that "each manufacturer shall establish and maintain procedures to prevent contamination of equipment or product by substances that could reasonably be expected to have an adverse effect on product quality." Ingersoll Rand Class 0 oil-free compressed air technologies help pharmaceutical manufacturers adhere to this regulation by ensuring production processes remain 100% free of compressor-created contaminants.
Ingersoll Rand also offers compressed air system audits that align with GMP requirements and PAT initiatives.
We are available 24-hrs a day, 365 days a year so never hesitate to contact us for any air compressor, air tool or material handling need.