Air dryers are necessary to remove excessive water in compressed air, in either the liquid or vapor phase, which can cause a variety of operational problems for users of compressed air. These include freezing of outdoor air lines, corrosion in piping and equipment, malfunctioning of pneumatic process control instruments, fouling of processes and products, and more.
Ingersoll Rand non-cycling refrigerated dryers will deliver a consistent pressure dew point of 38 °F to 50 °F (3 °C to 10 °C). The dryers are available in wide range of sizes with a variety of options. The non-cycling design provides reliable and economical operation while delivering moisture free air.
An advanced cycling dryer, the Nirvana provides significant savings  because it does not waste energy through continuous operation of its  refrigeration system, as do traditional non-cycling dryers. Dryer operation,  and therefore energy draw, is reduced to match to the incoming heat load.  Each component of the Nirvana has been designed to provide not only  durability, but maximum energy efficiency.
This combination of system  design and individual component design adds up to the most energy efficient cycling refrigerated dryer available.
Non-Cycling Air Dryers
Cycling Refrigerated Air Dryers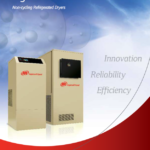 Air Dryer Brochure(s)
To download one or more brochures about the information described on this page please click on the download button below.