Is your money vanishing down the drain?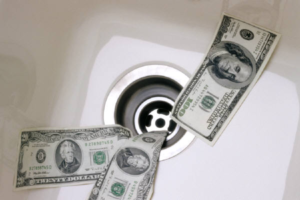 As an industry leader in compressed air technology and compressed air system auditing, Ingersoll Rand offers an air leak assessment program that will improve the operation of your facility and save you money.
From Tagging to Tracking
We identify and tag leaks
We assess leak values
We prioritize leaks
We document leaks
Identify and tag leaks
We use the most efficient process, experienced people, and advanced testing equipment in the industry to find and mark the source of each leak.
Assess leak values
Based on system details, such as hours of operation, power cost, and types of compressors, we determine the volume of air lost as well as the cost of each unprepared leak over time. This significantly improves the accuracy of our estimations for potential savings because they're tailored to a specific system, not an industry average or theoretically perfect system.
Prioritize leaks
We rate leaks based on estimated size, then prioritize them according to which ones would provide the greatest financial return when repaired.
Document leaks
We record the size and location of each leak for assessment and future reference. Then we present the results to you in an electronic format.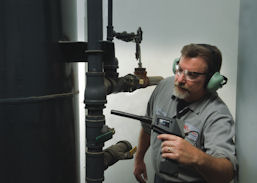 How much are leaks costing you?
Did you know that a 1 cfm leak for a 24/7 operation can cost $100 per year?* This is literally a pinhole leak. How many pinholes do you have?Making decisions about leak repair requires quality information. To help improve the accuracy of our potential savings estimations, we look at the operating strategy of your compressors. A best-in-class system will reduce power in direct proportion to a reduction in demand. Typical systems reduce power by only 3 to 7 percent for every 10 percent reduction in demand. We take this into consideration so your estimated savings are real, not theoretical.* These fgures are based on a power cost of $0.065/kWh at 8,760 hours per year.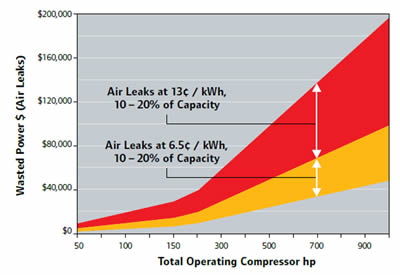 Do you need a leak assessment?
Your organization is more likely to have ≥ 20% leaks if it uses:
• Large number poly-tube connections
• 20 or more flters/lubricators every 100 hp of air
• Threaded pipe for drop lines (20 or more for every 100 hp of air)
• Robotic assembly cells with pneumatic connections
• Threaded overhead piping
• Pneumatic connections on moving applications, such as cylinders, indexing
equipment, hand tools, etc.
Leak volume based on DOE estimates of 10% – 20% of total compressor capacity (low or moderate leak level)
Cost of leaks estimated based on $0.065/kWh and $0.13/kWh x 8,760 h/yr at 4.3 cfm/bhp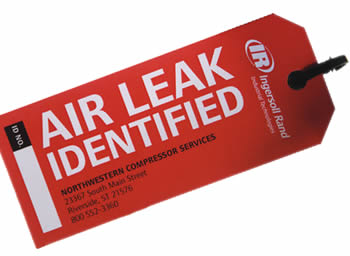 Air leaks identified
Our durable leak assessment tags are designed to remain in place for years, so we can make sure the leak was repaired correctly when we return for your optional annual checkup. Tags available in beige or red with calendar on the back to track, ID, repair or verify.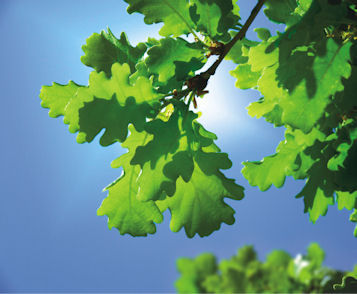 Saving Money and the Environment
Properly repairing air leaks not only saves money – it helps save the environment. A compressed air system with fewer leaks is more energy efficient, resulting in the reduction of CO2 emissions. Ingersoll Rand is proud to partner with companies that are doing their part to minimize their carbon footprint.