Standard Cast & Fabricated Air Filters
Ingersoll Rand is a world class producer of air filtration products. With a wide variety of product offerings, Ingersoll Rand's air filters provide superior air quality to almost every compressed air application in the industry. The Ingersoll Rand filter provides the ideal platform for an easier, more reliable and fully predictable maintenance schedule. By using a unique time-based approach, the ERI provides an easily visible indication to replace the filter element at the optimal time (bi-annually) to avoid high pressure drop and minimize energy consumption. In addition, the unique fit between the element and the filter body allows for a no-touch, no-hassle change out process that is quick and clean.
The ERI is truly elegant in its simplicity: after six months of use, it provides a visual warning through an integral indicator to replace the element. That's it! How can such a simple solution provide such tremendous benefits? Easy…with a proactive time-based approach. Traditional usage-based systems focus on extending the life of the filter element – the filtration system's least expensive component – to the point when the element is completely clogged. This reactive mindset neglects the high energy costs associated with clogged filters and ignores the overwhelming economics of the proactive time-based ERI.
The reactive approach to air filtration only focuses on element change out, which represents 13% of overall cost. Our new filter technology reduces PD energy losses, representing 78% of overall cost, by ensuring filter replacement before the PD rises exponentially. This also results in lower emissions, longer compressor life and higher production quality. The new filters also deliver air quality in accordance with ISO 8573.1: 2001 when tested with the stringent requirements of the new ISO 12500-1 international standard for Compressed Air Filter Testing.
Specifications:
Capacity Range: 21-17000 cfm (0.6-468 m3/min)
Filtration Grades: General purpose, high efficiency, dust particle, activated carbon
ISO Class 1 & 2
Maximum Operating Pressure: 232 psig (16 barg)
Maximum Operating Temperature: 150°F (66°C), 86°F (30°C) for activated carbon
Minimum Operating Temperature: 34°F (1°C)
Features:
Low pressure drop design
No touch element replacement
Low energy consumption
Threaded and flanged connections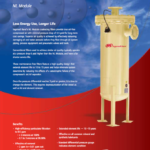 Air Filter Brochures
To download one or more brochures about the information described on this page please click on the download button below.